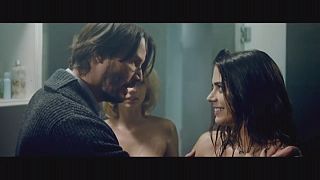 In his latest movie, Keanu Reeves plays a devoted husband and father, who is left alone for the weekend. When two attractive young women knock on his door asking for help on a stormy night, he gets more than he had bargained for. After being seduced, Evan's ultimate fantasy turns into a nightmare.
While Reeves describes the raunchy sex scene with co-stars Lorenza Izzo and Ana De Armas as fun, for director Eli Roth it was another story, as he was engaged to Izzo at the time.
"What is the story? So from Evan's point of view, it was kind of animalistic. You know, we are doing it and they are enjoying it but there's also complicity between the two of them, like 'We got him'," says Reeves. "They are kind of succubus' and he's like unconscious, just going at it. He's unleashed his… there's lightning and rain and he's just unleashed!"
"Admittedly it was weird because I was engaged to Lorenza (Izzo) and we were like actually shooting and 'Okay, this is weirder then we thought it was going to be'," says director Eli Roth. "But it wasn't a passionate love scene, it was more animalistic, we called it the 'David Lynch sex scene'. I didn't want it to be fun, I wanted it to be very stylized and very surreal and almost animal-like with the lightning flashes and the music, that 'Basic Instinct', almost over the top."
The film has earned mostly positive reviews, with Izzo and de Armas praised for their performances as the female seductresses.
Eli Roth's 'Knock Knock', starring Keanu Reeves, Lorenza Izzo and Ana de Armas, is on global release now.