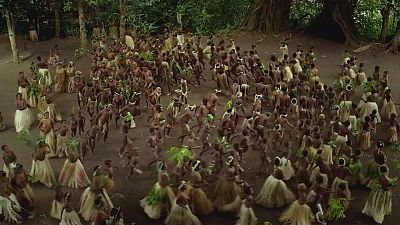 A film about forbidden love set on South Pacific island, 'Tanna', has had its world premiere at the Venice Film Festival.
The film tells the story of lovers Wawa and Dain. With arranged marriages firmly entrenched in tribal law, theirs is an impossible love, as Wawa is promised to a man from a rival tribe in an attempt to put an end to conflict between the warring groups.
The story is enacted by members of a local tribe, speaking in their native language and clad only in sheaths and grass skirts. The non-professional actors are natural performers informed by a culture in which storytelling plays a vital role.
"It wasn't made with the idea of presenting a particular message as much as revealing a completely unique culture but in a way that is completely engaging and entertaining for a Western audience," said film director Martin Butler at the Venice premiere.
Australian filmmakers Martin Butler and Bentley Dean lived for seven months on the island, which is part of the Vanuatu archipelago, whose population of 30,000 includes remote tribes who live high in the mountain rainforests. They have rejected colonial and Christian influences and returned to their traditional system of laws and beliefs.
"Well, our message to the world and to everyone else who would see the film 'Tanna' is: 'We exist.' We are on a very, very tiny island in the South Pacific. We exist. Here we are. What can you learn from us?," said tribe member Jimmy Joseph Nako in Venice.
"We've got so much to learn from these people because… look at them! They're fit, they're healthy, they're happy. They're doing something right. (That's) not always the case in Western society," said film director Bentley Dean.
The crew was made up of just film director Bentley Dean on camera, his wife Janita Suter as combined script editor, production manager and make-up artist, Martin Butler on sound and tribe member Nako as cultural director.
After Venice, the movie will be touring the film festival circuit with upcoming screenings in London and Adelaide.