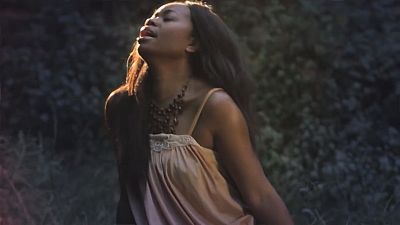 You may not have heard her name before, but odds are you have heard her voice: Ruby Amanfu has a long history as a back-up and duet singer with acts like Hozier, Brittany Howard and Jack White.
Now she's stepping into the solo spotlight with a collection of cover songs, including tracks by Bob Dylan and Kayne West. The trick, she says, is to personalise them:
"That's the thing about doing covers. If you do a song by somebody who's already made it famous, nobody can really hear your version without thinking of the other," she explains. "I wanted this to feel like a discovery for the listener, even if they do know the artist, they may not know the song and I want them to feel a discovery listening to me for the first time."
'Standing Still' was recorded live in just five days in a remote log cabin in Tennessee.
Amanfu says she's excited to share this new side of herself with fans after learning so much from performing with others over the years: "I have been partners with so many people over the years, with Sam and Ruby and working with Jack White, and most recently touring with Hozier in the fall. And I love that because I love playing a supporting role."
Out now, Ruby Amanfu's new solo LP, 'Standing Still', has received critical acclaim, with reviewers calling it an incredibly satisfying album, which cements the singer-songwriter's reputation as a first-class vocalist.