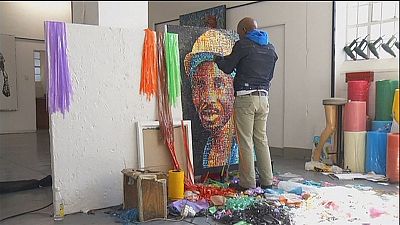 Hard at work in his Johannesburg studio, South African artist "Mbongeni Buthelezi"http://www.plastic-arts.net/: is busy making something from nothing.
Discarded pieces of plastic, including bags and drinks wrappers, are this artist's medium. With it he crafts unique, colourful portraits.
The plastic bubbles and pops under Buthelezi's fingertips, which are calloused from manipulating the hot, molten material he uses to create his large-scale abstract pieces.
The 49-year-old artist began working with plastic in his final year at art school. He says he chose to create artworks using discarded plastic to draw attention and stand out from the crowd.
"With water colour and all other mediums or media that I have experimented with in the past, there was a time where I felt that I'm hitting the ceiling, I'm not growing anymore. I wanted to be noticed and I wanted to catch attention, because I knew also that I'm moving into a career where you have to be really special to be able to even make a living out of it."
The plastic's rough texture evokes the gritty reality of life in South African townships.
For the Art world, Buthelezi is one of a number of South African artists whose work reflects humanity's often detrimental impact on the environment, but his original use of discarded objects to depict an often forgotten group of people truly sets him apart.
"The victims of climate change are the poor – children and women. I think that it is really important that he represents them in that way. And you know he gives us a kind of hope on a consciousness level," says art critic Karabo Kgoleng Dada.
The boy who came down from the herds to make bricks with his father has come a long way, and by re-purposing these
discarded items, Buthelezi hope to send his own unique message of hope around the world.