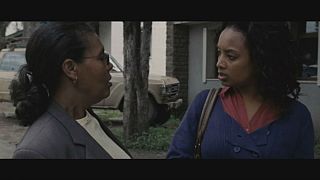 We've been extremely moved this week by an Ethiopian film called Difret. A film which shows a side of the country perhaps few of us are familiar with.
For sure, there are green, luscious plains and plateaus
but there are also women who fight against the established order.
Hirut is 14 and lives three hours away from the capital Addis Ababa.
The story unfolds 20-years. One day on the way to school she is kidnapped – a traditional practice known as a prenuptial abduction.
There's just one problem. Hirut has absolutely no desire to become a teenage bride. She resists and is raped. She kills her abductor and manages to escape.
Accused of murder, an Addis Ababa lawyer comes to her defence and two worlds collide.
Difret is only the fourth film to have been made in Ethiopia, and the first feature of Zeresenay Mehari.
It's also co-produced by Angelina Jolie.
It's a film which imposes itself through its simplicity and the tone set by the actors.
Amharic is the spoken tongue of the film, the Semitic language of Ethiopia which means courage.
Enjoy the film and have a good week.