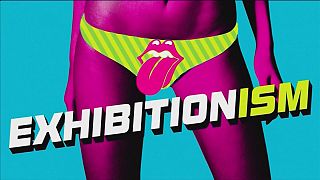 The Rolling Stones have compiled an exhibition looking back at a glittering career that spans five decades.
The items on show include guitars, set designs and costumes.
Tickets for the Rolling Stones EXHIBITIONISM go on sale this Friday at 9am BST! #StonesIsmhttp://t.co/ZB55V3B1bPpic.twitter.com/rpekSJ1Clw

— The Rolling Stones (@RollingStones) July 7, 2015
Mick Jagger says the process of compiling and collecting has been going on for some time: "We'd been thinking about it actually for quite a long time, collecting things, thinking about 'oh this would be good, we better save this because we want people to see it, we want people to see this, we want people to see that.' Yes it is a kind of look at your career and I think that it is an interesting time to do it. We have got enough stuff, in fact too much stuff."
The show plots the changes in style the band has undergone over the decades.
.@edsheeran & the Rolling Stones are now on stage performing Beast Of Burden! https://t.co/3HUwT90Wei#StonesKC

— The Rolling Stones (@RollingStones) June 28, 2015
Keith Richards has fond memories of the swag on show: "All the bits and pieces and the technology and instruments and stuff, things that have passed through your hands in that time are very interesting, at least to me because half of them are stolen."
'Exhibitionism' opens at the Saatchi Gallery next April before visiting 11 other cities on a four-year world tour.