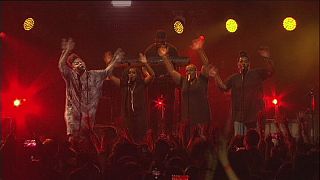 Sinead O'Connor hit the stage at the Montreux Jazz Festival.
The prestigious event is celebrating its 49th year.
O' Conner delivered an eclectic set made up of some of her more popular hits mixed with songs from last years album, 'I'm Not Bossy, I'm the Boss.'
The video for '8 Good Reasons' is finally here https://t.co/Xayrr8xgt4

— Sinead O'Connor (@SineadOconnorHQ) October 28, 2014
John Legend wowed the crowd with 'All of Me' from his album 'Love in the Future' the singer/songwriter has a huge reputation to live up to after Quincy Jones dubbed the musician a "genius."
We had so much fun at Montreux Jazz Festival tonight!!! Thank you!! https://t.co/gZfLsOVpTd

— John Legend (@johnlegend) July 3, 2015
Lilly Wood and the Prick got the hoards boppin' with 'Prayer in C.'
The French pop/folk duo fuse electro, folk, new wave and funk.
Montreux Jazz Festival : le concert de Lilly Wood & the Prick à suivre ici à partir de 23h. http://t.co/pUrHLOEuAYpic.twitter.com/D3GD2Etqre

— les inrocks (@lesinrocks) July 3, 2015
Nili Hadida and Benjamin Cotto are fast becoming one of France''s most revered groups.
Scottish artist Emeli Sandé performed a diverse set of cross-genre musical influences.
Merci Montreux x pic.twitter.com/CCW95dLd8b

— Emeli Sandé (@emelisande) July 3, 2015
The R&B jazz-soul artist burst onto the scene in 2011 with the singles 'Heaven' and 'Read All About It', then won two Brit Awards in 2013 for her first LP, 'Our Version of Events'.
SWITZERLAND! @emelisande is playing @MontreuxJazz tonight @ Auditorium Stravinski! Don't miss her xx pic.twitter.com/ftGx6r2SDi

— Emeli Sandé Poland (@EmeliSande_PL) July 3, 2015