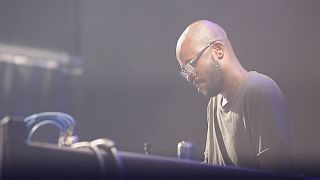 Nkosinathi Innocent Maphumulo, the artist otherwise known as Black Coffee, is a shining star on South Africa's dance scene.
The award-winning record producer and DJ started his career at around the same time that the new South Africa was born.
Twenty-one years and four albums later, he has brought his special blend of home-brewed house to festivals around the world, like Barcelona's recent Sónar Festival, where he kept crowds up dancing all night.
"Black Coffee is a music producer, a DJ, an entertainer really who's always been interested in music from an early age," he told euronews. "When I was young in school, after school, everywhere, I mean until I finished high school and I went to study music, I was involved in choirs, classical music, anything that had to do with music I was first in line, basically."
Black Coffee's sets deliver soulful house, vocal passages, sizzling percussion and live remixes using loops along with all kinds of sonic trickery.
He told euronews about his career path: "I am inspired by anyone who tries, in life, to make something of himself, especially in Africa, because we have had such a turbulent history as a continent, and there are very few people who want to rise, because we are used to begging, it is part of us, you always beg. And people that are motivated to go and get things for themselves, they inspire me a lot."
Black Coffee is a busy man. After kicking off a world tour last April in Doha, he will be performing throughout the summer across Europe and North America. And he is not planning to stop anytime soon: "This year is my tenth year, I produced my first album in 2005. I am giving myself another ten to do this and then I just want to be alone in my house and just do nothing really, read a book, paint, you know."