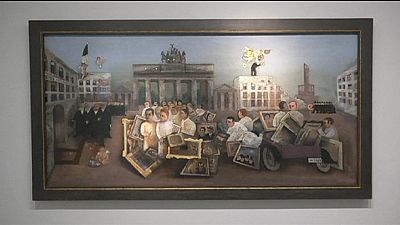 One hundred years of Berlin's vibrant arts scene – 1880-1980 is the period covered in the show opening at the newly-renovated Berlinischer Galerie, closed for the best part of a year.
It was a tumultuous period for capital and country; a brief imperial period snuffed out by the trauma of war, followed by a creative supernova crushed by the Nazis, more war, and then division by the Iron Curtain.
"It starts with the imperial capital, then the Vienna Secession movement, the 1920s when Berlin became one of the world's great modern cities, and a centre of the international avant-garde.
After WWII the situation changes and Berlin falls into a slumber like Sleeping Beauty, insular and cut off until stirred by the Young Savages movement in the 1970s, who draw international attention and put Berlin back on the map. Clubs and the sub-culture are at the heart of their work," says curator Stefanie Heckmann.
The Russian revolution led to a flood of artists arriving, and Berlin has always been a magnet for foreign artists. They brought their own influences and contributed to the artistic boom of the period. The current show looks at it all, and goes beyond the mainstream.
"The collection from the Berlinischer Galerie is focused mostly on the avant-garde. We are not showing the critically acclaimed and the art that was accepted by the elite but rather the counter-movements," says the Galerie's Director Thomas Köhler.
Renovating this rather boxy seventies building has cost six million euros, and it ensures that the permanent Art in Berlin exhibition, and the rest of the extensive collection that will be rotated on display, will be housed properly, and more accessible to the public.