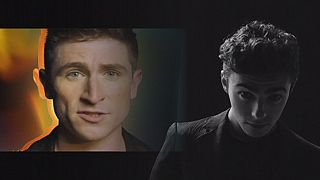 Nathan Sykes used to be part of boy band The Wanted, who are now taking a break. But now he has released a solo single, "More Than You'll Ever Know".
Have a listen!
Nathan Sykes says it's all about loveing music: "We just thought it's the right time to have a break from music. And I was 20 when we decided, and I was like 'I'm far too young to stop doing what I love.' For anyone who is like 'Oh my God! He's left the band!' Well what do you expect me to do with my life? Sit in a dark room for the next 10 years and wait for a phone call to say 'We're going to do another tour?' What do you expect me to do, do you know what I mean? So I was like I love music so much and I can't imagine my life without music so I just went and made a solo record."
US Indie band 'Walk The Moon' say they want to make people forget about being cool, and perhaps it's working because their 'Shut Up And Dance' video (from the album Talking is Hard) has had over 28 million views.
Have a look
Band member Nicholas Petricca said the song has been a big hit: "You know we wrote it as a bit of a dork rock 'n' roll anthem, and I think everyone has inside of them a nerd or a dork or a geek, or however you want to put it, just waiting to come out, for the right subject or at the right time. So I feel it encourages people to just get out of their head and be themselves and get in the moment."