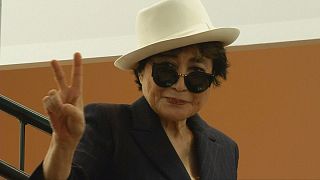 Yoko Ono was an artist in her own right before she married John Lennon in 1969.
Now, the Museum of Modern Art in New York is celebrating her achievements with an exhibition of her early works showing her groundbreaking contribution to the art of the Sixties and beyond.
The show includes more than 100 early pieces of art, works on paper, films, installations, performances and audio recordings, in which Lennon often played a role.
"When she met John Lennon in London, she had behind her 10 years as an artist and 10 very important years, where she basically redefines the art of her time. Her fame clearly overshadowed that moment so it was time for us, as a museum, to bring that back," says Christophe Cherix, Chief Curator of the Department of Drawings and Prints at MoMA.
The show begins with 'Apple', a 1964 work showing a piece of fruit on a Plexiglas pedestal. It also includes Ono's signature interactive 'Bag Piece', which explores notions of perception and privacy, as well as the film 'Cut Piece', where people are seen cutting up Ono's clothing. Another film, shot some years later, shows a fly as it travels over a woman's body.
"In 1971 she does 'Fly', where she follows a fly on a naked body. How do those two works work together? There are seven years in between, one is in black and white and a performance. One is a film with a professional model and is in colour. Both are about nudity, both are about being extremely vulnerable," explains Christophe Cherix.
The show also includes more recent works like 'To See the Sky', created especially for the MoMA exhibition.
'Yoko Ono: One Woman Show 1960-1971' runs until September at the Museum of Modern Art in New York.