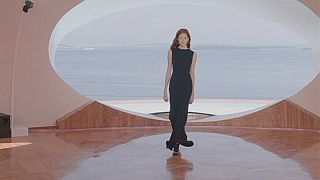 With stunning views of the French Riviera and the spatial brilliance of the famed, "Bubble House" as a backdrop, Dior faced some serious competition for the best visuals at its cruise show at the start of this week.
But the fashion house did not disappoint with its collection of both abstract and traditional filled with bold colours and asymmetrical designs.
It was a return to the Rivera for the cruise show after showing in Brooklyn last spring.
Dior creative director Raf Simons said the collection was inspired by the Rivera. Some of the dresses reflected the brilliant blues and greens of the ocean,
There were fashions for a casual beach day and more formal events.
Cruise collections, originally designed for wealthy fashionistas holidaying on yachts or cruises during the winter, are inter-season lines produced by fashion houses in addition to twice yearly seasonal designs.
French fashion house Chanel looked to traditional South Korean dress for its 2015/16 cruise collection.
Models strutted in round-shouldered jackets with large sleeves, wide trousers and just over-the-knee skirts in a nod to the brand's staple of suits, on the catwalk in Seoul earlier this month.
Multi-coloured striped dresses bore high waistlines, making for voluminous silhouette.
Using a palette of pink, orange, violet, mint green and royal blue, creative designer Karl Lagerfeld said he had drawn inspiration from the traditional outfit, the hanbok for the line.
"The concept is modern, international version of typical Korean mood. How we see it for the modern 21st century but with inspiration from the past, because I love traditional Korean clothes, materials, patterns and all that," he said.
Accessories included a handbag decorated with mother of pearl, which is traditionally used for furniture in South Korea. Models also wore black wigs that appeared to be inspired by the country's royal Chosun dynasty period.
The show was the first the brand had staged in South Korea.