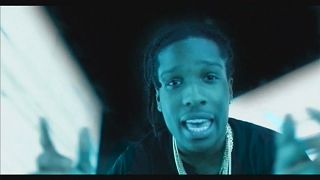 New York born rapper and musician A$AP Rocky topped the charts with his first studio album 'Long. Live. A$AP' in January 2013.
He took a break from the industry and returns with 'At. Long. Last. A$AP' but first the single 'Multiple'.
He spoke about his time away from the spotlight:
"I came to London, I cut my phones off. My mum, my lady or relatives orclose friends, if they needed to reach me, they needed to page me. That is how I was aware of them trying to reach out to me. 
But other than that, I just didn't want to talk to nobody. I wanted to stay 
focused, I didn't want people soaking up my energy."
As well as music A$AP has branched out into acting and stars in the film 'Dope' about a teenage geek who navigates through life in a tough neighbourhood in Inglewood, California: "I took it seriously. The reason why I chose - the movie was that it was an indie film. I wasn't paid a lot of money to do the film. I did it because I wanted my acting debut to be on a small scale. Like with anything I do, I wanted to perfect myself and I wanted people to take it seriously. If I would have jumped straight into a mainstream Hollywood blockbuster, I think a lot of people would've been more reluctant or people would have wanted to bash me more. I do feel that way."
His new album is out later this year.