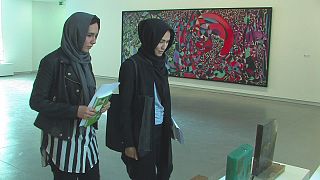 This 12th edition of the Sharjah contemporary art Biennial in the United Arab Emirates is as cutting edge as ever. More than fifty artists from around the world invited to take part under the theme "The Past, the Present, the Possible".
Among the works on show was Congolese artist Papy Ebotani's 'Fanfare Funérailles', featuring Congolese rapper Shoggy Angoy: "This performance is called the 'Fanfare Funérailles'. It's a performance that mixes dance, music and theatre. Why is it called 'Fanfare Funérailles'? We are trying to reproduce a reality which has become a ritual back home in the Democratic Republic of Congo, where, for a funeral, people no longer turn up to sympathise with the family of the deceased, but to show off their smart clothes, their designer labels," he explains
Most of the artworks were commissioned especially for the event. Argentinian artist Eduardo Navarro worked with children to devise his installation where blindfolded players roll an enormous blue ball over a grid floor. The ball's movements are determined by sensory jackets and controlled by applause.
Thai artist Rirkrit Tiravanija constructed an elaborate rose garden within a courtyard, outfitting it with a rosewater distillery and kitchen, where visitors are invited to eat fragrant rosewater delicacies.
According to Syrian artist Khaled Al Saa'i, roses have always been a source of inspiration in art: "Roses inspire love and beauty. Here, this beauty has been transformed into a work of art, to create an environment which is inspiring, where you can express your feelings and emotions. This work of art is about living in a garden of roses, where you can breathe, touch, taste and enjoy the roses, it's an artistic metaphor."
'Steel Rings' by Lebanese artist Rayyane Tabet represents the Trans-Arabian oil pipeline running from Saudi Arabia through Jordan and Syria to Lebanon. The art work is a reminder that the only object still uniting these five Arab countries lies buried beneath the sand.
The biennial also focusses on female artists from the Arab world, like Lebanese modernist Saloua Raouda Choucair, whose interlocking wooden sculptures dating back to the 1940's continue to fascinate.
Also on show is the work of eccentric Turkish multimedia artist Fahrelnissa Zeid, who died in 1991, and whose work blended the elements of art from the East with abstract influences from the West.
"What I really like about this exhibition is to see the work of these excellent artists and the talent of women in the Arab world, whom we didn't know about before. Some of these artists are still alive and others have passed away. Many of the performances you see are contemporary. I am delighted to be here and see some of their performances," said visitor Ahdiya Timur.
Founded in 1993, the Sharjah Biennial has grown from a traditional and regionally focused exhibition into an internationally recognised event. It runs in and around Sharjah until June 5th.