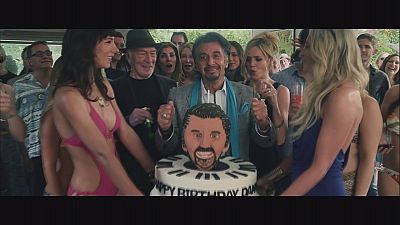 In Danny Collins, 74-year-old Al Pacino plays an aging rock star facing an identity crisis.
He is still making money by half-heartedly giving oldies concerts. Until one day, his manager unearths a 1971 letter from John Lennon, in which the former Beatle invited Danny to discuss career choices and be true to himself.
This prompts the veteran rocker to want to change his life and at last reconnect with his family.
The film's director, Dan Fogelman, is most known for the screenplays he wrote, including Disney's animation film "Tangled", the Pixar film "Cars", and television sitcoms.
He says working with Al Pacino as a first time director was beyond his dreams.
"It's exciting, it's so beyond exciting it's almost incomprehensible. I should've taken a Xanax before I came here tonight," Fogelman said at the film's premiere in New York.
Bobby Cannavale plays Danny Collins' estranged son, and Jennifer Garner his daughter-in-law. The movie also stars Christopher Plummer, Annette Bening and Slovenian actress Katarina Cas.
Al Pacino said Fogelman convinced him to play the lead role: "Francis Coppola was that way for me for 'Godfather.' When I didn't quite see myself in the part, he did. I didn't quite see myself in this, Dan did. So you want to heed that if it happens because they're seeing something that maybe you're not objective enough to see."
The film is based on a true story. In August 2010, it was reported that Lennon had wrote in 1971 a letter to British musician Steve Tilston, who worried about the corrupting influence of fame. Tilston did not become aware of the letter's existence until a collector contacted him in 2005.