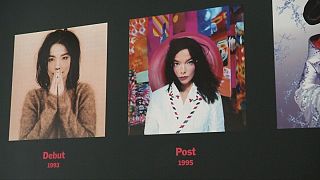 'Björk' is a new exhibition at New York City's Museum of Modern Art which chronicles the career of the iconic Icelandic artist.
Her experiments with sound, images and technology changed the landscape and visual representation of pop music, and the retrospective aims to highlight her artistic influence through sound, film, visuals, instruments, objects, and costumes.
"I didn't want to have her look like an artist who wants to be a visual artist. She's a musician, she's a composer. She bridges classical, to pop, to folkloristic. So I didn't want to make her what she's not. So everything visual in the exhibition has a different author. Every photo is done by a photographer, ever film by a filmmaker, architecture by an architect. So she's not a sculptor, she's not a painter, everything has a different author," says Klaus Biesenbach, Chief Curator at Large at The Museum of Modern Art.
Designed to be an immersive experience, the show also includes a personalised audio guide featuring Björk's music and a biographical narrative detailing her creative process, as well as photos, objects, and costumes linked to characters created by the artist for her albums.
"It's very, very personal, we created a sound voyage, and the only thing you see when you look up – you should really focus on your ears – when you look up is her, herself, because you see here (he points), the eight albums, that was the structure, there are eight chapters of her work. So when you're in Songlines (the audioguide) the only thing you see is her in the different characters," Biesenbach explains.
The exhibition has disappointed many critics and Björk fans alike with some calling it a beautiful, ill-conceived disaster and others labelling it a complete rip off.
The Björk exhibition runs at New York City's Museum of Modern Art until June.