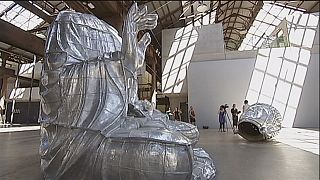 Sydney is celebrating its annual arts festival. The Australian city hosts a variety of genres.
Renowned Chinese artist Zhang Huan has erected two five metre high sculptures facing each other. One is made of aluminium and acts as a mould for the second which is created entirely from incense ash from Buddhist temples in China and which will disintegrate over time.
British artist, Mira Calix has created paper walls, sound and dance called "Inside the Falls". It was its world premiere at the festival. Visitors are invited to individually explore and seek out its secrets. There is one underlying theme to the festival.
"What we really strive to do is have a very diverse festival in many ways. It's the diversity of shows, it's the diversity of the background of the artists, and it's the diversity of accessibility points," explained the festival organiser, Lieven Bertels.
Australian circus act Limbo performs an exotic mix and draws on both magic and music to seduce audiences.
Caught in the lick of flames the performers show the agility of circus acts of old while some quite literally play with fire.
"It can be dangerous. You have to trust people that you're working with. In this show, I have to rely on other people so much, and that was the part that was scariest for me," explained Heath Holliday who is one of the fire eaters in the troupe.
A popular – and free- feature is the "Waterfall Swing" at Darling Harbour. Brooklyn based company 'Dash 7 Design' created a set of swings over a water feature that turns on and off to guarantee a dry ride.
Last year more than half a million people attended the festival and the organisers expect similar numbers this year.