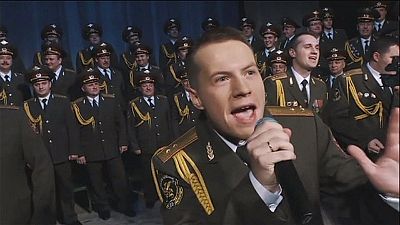 Pharrell Williams' insanely viral 'Happy' has probably been covered dozens and dozens of times, but this is certainly one of the most unusual versions – performed by none other than Moscow's Red Army Choir.
The song, complete with a video of dancing police officers and the choir performing in full uniform was posted on the website of the Russian Ministry of Internal Affairs with the message 'Happy New Year!'
Choir members say their goal is to bring enjoyment to anyone listening:
"I really want people who are watching us and listening to us to understand that we are doing this just for them, personally for them, not for the government, not for their bosses but personally for everyone who is at home or watching us on television, to touch every heart," says choir soloist Alexei Dmitriev.
The Red Army Choir was formed under Stalin in 1939 to boost the morale of Soviet troops battling off the Nazis.
While the choir regularly performs more traditional, patriotic pieces, it has also made a name for itself with covers of major hits like Tom Jones' 'Sex Bomb' or The Beatles' 'Hey Jude'.
"Ever since Peter the Great, there have been musicians and orchestras that have supported patriotic tunes inside every warrior, to raise their morale so that they would win the battle and defeat the enemy," says Major General Viktor Eliseev, the Red Army Choir's conductor.
The Red Army Choir rose to global prominence with their cover of Daft Punk's 'Get Lucky' performed at the opening of the Sochi Olympics to an audience of millions.