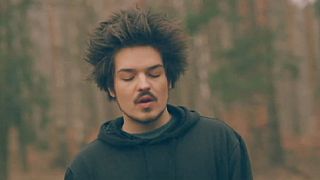 2014 gave us some great music. We saw the comeback of iconic musicians such as The Pixies and Pink Floyd, as well as new releases by popular contemporary bands like Coldplay.
Off the beaten track, this year also saw new works by a bunch of lesser known artists and newcomers.
Marie-Flore is a young French singer whose main inspiration is the sound of the Sixties – The Beatles, Simon and Garfunkel or Leonard Cohen. Even her own name is inspired by a Joan Baez song.
Through electrical notes and ballads, the classically-trained singer-songwriter draws us into her melancholic world, telling stories of her past. 'By the dozen' is her second EP, a fusion of pop, rock and folk, featuring 10 songs delivered in her trademark delicate voice.
2014 marked the release of Baxter Dury's fourth studio album, 'It's A Pleasure'. It's never easy to be the son of a legend – Baxter is the son of British punk icon Ian Dury – but he has managed to carve out his own unique style.
'It's A Pleasure' is a minimalist but very efficient pop album, that relies on drum machines, cheap and naive-sounding synths and a few basslines – and really is a pleasure to listen to.
'Madame Pompidou' is the latest offering from French alternative rock trio Cheveu. Part of their third album 'Bum', it is one of their most efficient and dance-oriented songs.
Founded more than a decade ago, the band, which relies heavily on humour and repetition, has a moderate but faithful following in France, though they haven't yet cracked the international scene.
'True' is the fifth studio album by 'The Legendary Tigerman', a one-man band whose inspiration is rooted in Mississippi's old Blues tradition.
Behind the Tigerman is talented Portuguese multi-instrumentalist and vocalist Paulo Furtado. Among the album's 13 tracks, listeners will be able to enjoy a cover version of Eddie Cochran and Ned Fairchild's classic 'Twenty Flight Rock'.
After making waves in their native Germany, singer-songwriter duo Milky Chance are making a name for themselves across Europe with their mixture of folk, indie and reggae, enhanced by an electronic undercurrent.
The single 'Down by the River', featuring on the band's debut LP 'Sadnecessary', takes you on a dreamy journey through the woods where the band comes under attack by a group of lost boys. Clemens Rehbein's striking vocals grabs you as well as the stunning guitar work underpinned by the band's trademark electronic hue.
Please share your favourite songs with us on our Facebook page.