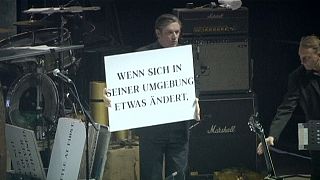 This year's centenary of the outbreak of the first world war was commemorated in a variety of ways. By far, one of the most unusual was a performance by German industrial band Einstürzende Neubauten in Belgium.
Entitled 'Lament', like their new album, it was inspired by testimonies of Prisoners of War. Two of the oldest musical forms – the lament and the motet – were also assimilated into the composition, along with the music of the Harlem Hell Fighters, the first Afro-American combat troop assigned to combat in World War I.
"A 'Leviathan' is being built on stage, huge pieces of metal with chains hanging on them, everything is dangling. And I only show cards, a bit Brechtian, or a bit Bob Dylan if you like. So I show cards with text printed on them, because I don't want to sing it, I just want to hold it up on cards. It's both the director's comments about what is going on on stage and a fake German expressionistic poem about war," says band frontman Blixa Bargeld.
Since bursting onto the Berlin punk scene in the early Eighties, blending guitar feedback, road drills and lumps of metal, the band has become increasingly highbrow, recently receiving a five-star review for its new album in Britain's Financial Times.
"We've certainly been one of the first German bands that toured internationally," says Bargeld. "Our success in foreign countries was always bigger and more respected than say it was in West Germany. I prefer being called a West Berlin band than a West German band because, for a long time, we didn't play West Germany because it was always stupid," says Bargeld.
The band has had to suspend its current tour after Bargeld suffered a broken leg during a recent show in Italy, but are hoping to resume their European tour in 2015.