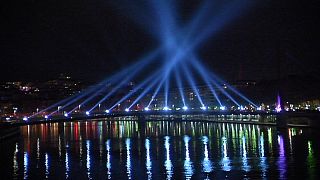 Millions of people have descended onto the French city of Lyon for the now traditional festival of lights.
Over the course of four days, the entire city lights up at night as public buildings, town squares and city parks become canvases for elaborate works of art.
"The Fête des Lumières has left its mark on Lyon, its in its genes, in its history and its tradition, and it's also an opportunity for the city to promote itself and its know-how abroad," said Jean-François Zurawik, Director of Events at the City of Lyon.
The Place des Terreaux, which has made a name for itself over the years with its impressive light and music shows, was the place to be again this year. Artworks from the Musée des Beaux-Arts came to life releasing characters into a fairytale ballet.
"It's a festival for the people, you can see it reflected in their eyes, which are filled with emotion, you literally see their eyes light up," said Gilbert Coudène, the artist behind the installation.
The smaller Antonin Poncet square took visitors on a cosmic journey with thousands of light particles scintillating in the dark, forming a constellation and then disintegrating.
"It's a very fragile piece of art, imperceptible, made up of stars and crystalline light, fragile and delicate," said artist Jérôme Donna.
Away from the crowds and the noise of the city, the parc de la Tête d'Or morphed into a winter wonderland, with luminescent dervishes, shining flowers and jellyfish and giant flying fish.
"We wanted to created a fairytale world, a world where people would enter the park and be surprised by the different installations, which would transport them into an imaginary, dream world," said artist Christophe Martine.
The event draws a growing number of foreign tourists to Lyon:
"I'm from Maastricht in the Netherlands," said one visitor. "I heard so much about it and I decided to visit. It is wonderful."
"I'm from Taiwan. It is very beautiful," said another.
"It's just incredible. I didn't expect this. A friend invited us, and yes, it is fantastic," said another from Germany.
Lyon's other main square, Place Bellecour, was also a hit this year with its show dedicated to Lyon writer Antoine de St Exupéry by French artist Damien Fontaine, a Light Festival regular.
The event dates back to 1643, when the city gave thanks to the Virgin Mary for delivering it from the plague. A modest celebration of the Catholic faith in its beginnings, which people marked by putting candles on their window sills, it has evolved into a world-leading festival that puts Lyon on the global map as a pioneer in urban lighting.