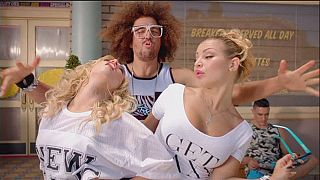 It's a new thing called New Thang – the latest recording from DJ and rapper Redfoo also known for being half of the duo LMFAO.
The quirky song is the fourth single from his soon to be released debut studio album.
"New Thang baby is a nice sax-y song and it features a nice little sax riff and I didn't know how powerful this saxophone riff was until all the girls – I said, 'Here's my new single' and they were like, 'Yeah, I love it but I really love the sax part'. I said, 'This is unbelievable,'" he explained and added: "So in the video we had Sergio 'The Sexy Sax Man' playing the riff because I kind of felt like the saxophone was getting more attention than me so we wanted to make a joke of that in the video and the sexy sax man steal all my girls every time the part comes in."
Redfoo – real name Stefan Kendal Gordy – also used the video to show off the latest clothing designs from his fashion label.
"I love to dress how the music sounds in my head. I love to match my music with what I am wearing," he explained.
Redfoo's controversial videos and lyrics have recently been criticised as misogynist. The artist has defended them on Twitter saying he respects women and considers them, "the most powerful people on this planet".