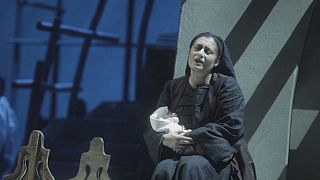 The Greek National Opera is showcasing the world premiere of 'The Murderess'. This new opera is based on the 1903 classic novel of the same name by author Alexandros Papadiamantis.
Greek composer Giorgos Koumendakis is in charge of adapting the tale of crime and punishment into a stage production.
Euronews correspondent Georgios Mitropoulos spoke to Myron Michailidis, Artistic Director of the Greek National Opera.
"Until now, all the plots for operas were related to ancient Greece", Michailidis explained. "So, we're very happy that this adaptation by Giorgos Koumendakis adds something more. It combines the contemporary western symphonic creation with elements from Greek music – particularly traditional folk music."
'The Murderess' tells the story of Hadoula – also known as 'Frangoyannoù' – an old woman living on the island of Skiathos in the mid-19th century. At that time, daughters born into poor families were considered an economic burden. Hadoula takes pity on such families and, after killing her own newborn granddaughter, goes on to murder other young girls in what she considers 'mercy killings'.
The opera follows her every thought and step, delving deep into her troubled soul.
Composer Giorgos Koumendakis gave euronews an insight into this complex character.
"I've been working on this opera for the last three years trying, without success, to give a face to the main female character, 'The Murderess'. Finally I found the solution through music. In the end, my greatest achievement was that I liked this female monster."
In the end, The Murderess is confronted with the harsh reality that she was, in fact, not helping. She gradually slips into a state of mental turmoil, flees arrest and attempts to hide in the wilderness.
But while trying to escape, she slips and drowns in the sea.
Soprano Irini Tsirakidou plays plays the role of The Murderess.
"Her behaviour is really extreme", she says. "Because she can't cope with all the psychological and sentimental burdens within her. She finds it impossible to cope with the social surroundings of that era. It's impossible for her to deal with this situation."
Vassilis Christopoulos, former director of the Athens State Orchestra, is the conductor of this production. We asked him, 'can this play find a niche in the repertoire of world opera?'
"All the great, established operas of the repertoire have got strong roots in a country's historic and social background. They each have a very specific starting point. In that sense, I believe that Koumendakis's opera fulfills all the necessary requirements to become a significant work in the world repertoire", he told us.
'The Murderess' will run from November 19 to 26, 2014 at the Athens Concert Hall.