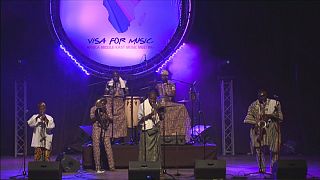 Premiering in Morocco, Visa For Music is a new fair aimed at promoting music from Africa and the Middle East.
Some 60 exhibitors took part in the first edition in Rabat. It was a chance for agents, festival directors and record companies to discover new talents or established artists like Moroccan musician Aziz Sahmaoui, who presented his new album on opening night.
The founder of the event is Brahim El Mazned, who has been organising the Timitar Music Festival in Agadir for over a decade.
"What people often forget is that there are one billion people in Africa, and there's a thriving artistic life. It's a continent with a very rich musical culture," he said. "And I believe there are ways of developing an interesting platform here in Africa without needing to go through Europe or the United States to get our own artists recognised."
A brass band from Benin, Alle's Tones came to the music fair to try to develop international contacts.
Though they are starting to make a name for themselves, they cannot live from their music, and there is little public help to support musicians.
"Every year, we get invited to perform at festivals around the world but we have to pay for our own transport to get there. You need funding for that, so you send out requests but you don't get any positive answers, and you end up going round in circles, that's our biggest challenge," said band member Codjo Samson Tohossoussi.
N3rdistan is a band from Casablanca that mixes afro rap, electro and rock. They have already achieved considerable success in their home country with their energetic sound and committed lyrics about life in a globalised world, and are hoping to seduce audiences further afield.
In addition to the conferences organised at the fair, there were also speed dating sessions, where musicians and agents could meet and hopefully do business.
"We are very happy to be at Visa For Music, we think it's incredible to have an arts market place here in north Africa," said Abdi Rashid Jibril, a booking agent from Kenya.
Rania Elias-Khoury, a festival director from Jerusalem, was also there: "It is done and organised in a very proper way, you have a chance to meet everyone in the meetings and the concerts, showcases or speed meetings," she said.
"In the world music scene I would say that we get quite a lot of offers but there still is lot of work to do and I think to organize such meetings like here, like this music fair, I think it is a very good idea," said Hilde Bjørkum, a festival director from Norway.
"I know that the network that's connected to this event, Visa For Music, has very, very good connections in the Middle East and also all over Africa, so it's a very good place to be. For me, I would say, of course, it's a network but (I have come) mainly to see the showcases," said Peter Hvalkof, programme director of Denmark's Roskilde Festival, one of the largest music festivals in Europe.
Mashrou' Leila is a Lebanese alternative rock band from Beirut. With its eclectic sound, openly gay frontman and politically charged lyrics, the band makes no secret of its ambition to challenge the conventions of Arabic pop culture. The fair was a chance for the band to address an international audience of decision-makers.
Wrapping up the event, euronews' correspondent in Rabat, Wolfgang Spindler, said: "Geographically, Morocco is certainly the right place to hold a music fair and offer musicians from the region a new, international platform. One can but wish Visa For Music a bright future."