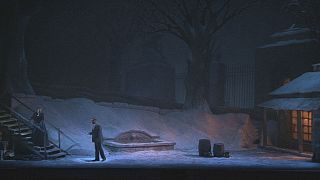 Zeffirelli's timeless production of La Bohème is currently on stage at the Metropolitan Opera in New York. In the roles of the young couple in love are "the Maltese tenor", Joseph Calleja, and Maija Kovalevska, by now more than just a rising star.
"Puccini was a very naughty man – I wanted to use an even harsher word. I mean, for Puccini, the human soul is like a harp, and with his music he manages to pluck the right chord at exactly the right time," said Joseph Calleja.
"Puccini's music breaks your heart, you cannot stay indifferent when all those things happen, and they are real on stage; the story is so moving, so understandable for our audience. I have seen it also with children. I remember I once did a performance here, and I had letters from kids, and it's so nice: "oh, I was so sad, when you died, I was crying in the end", it was so sweet because, you understand, you feel the reaction, in all those matinées, when children are there. It's just great!," explained Maija Kovalevska and continued:
"When I started to sing this character I really loved the first act very much, and I loved all the story, and how they meet each other, and how beautifully Puccini wrote all these romantic feelings and the duet with Rodolfo, and the second act, of course. Now that I'm getting older the third and the fourth acts make more sense."
"She means she's already 24!," joked Joseph Calleja.
"So it's not that I like them more, I maybe understand them better than before!," continued Maija, talking about the third and fourth acts.
"I think this opera is about the refusal of growing up. If Rodolfo really wanted to grow up, he knew Mimì was sick, right? Then why doesn't he go and get a proper job, he knows he's not gonna make it as an artist. And this is where me and Rodolfo diverge: if Joseph Calleja was Rodolfo there would be no Fourth Act, because I would be working really hard to pay for a good [doctor] and to make sure that he took care of his woman!," concluded Joseph.