Ukraine war: Over 100 Russian tanks destroyed in fighting in Vuhledar, says Kyiv
Comments
By Euronews with AFP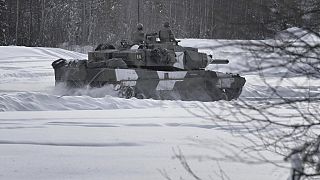 -
Copyright

DIMITAR DILKOFF /AFP
Ukraine is claiming that Russia has lost at least 130 tanks and armoured personnel carriers in a three-week battle near the southern Ukrainian town of Vuhledar.
This footage was released last week showing a Russian tank being targeted in the area.
The claims have not been independently verified. In the meantime, what is clear is that Russian shelling has left a trail of destruction in the town.
Standoff in Bakhmut
In Bakhmut, Ukraine's Azov fighters are still defending the beleaguered city. Russia is determined to take the city but, with both sides suffering huge losses and Russia not gaining much ground, its capture would be more of a symbolic political win for the Kremlin.
Ukraine's President Volodymyr Zelenskyy and his advisers have said that the Ukrainian military is yet to decide whether to withdraw its forces from Bakhmut, adding that "we're not going to sacrifice all of our people just for nothing."
Residents adapt to life under threat from shelling
As the war grinds on, civilians in Chasiv Yar, a city less than 10km from Bakhmut, are forced to adapt to life under the threat of increased shelling. Many are living in freezing conditions with little to no access to means of keeping warm.
Since October, Russia has been pummelling key facilities in Ukraine with missiles and drones, disrupting millions of people's water, heating and electricity supplies.
But Kyiv remains optimistic that it has survived the worst of the fighting. Foreign Minister Dmytro Kuleba on Wednesday said Ukraine had overcome "winter terror" brought against his country by Russian leader Vladimir Putin and hailed the first day of spring as another "major defeat" for the Kremlin.