Thousands of nurses strike over wages and poor working conditions in Slovenia
Comments
By AFP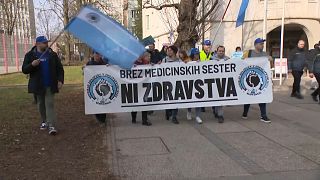 Thousands of nurses in Slovenia striked over low salaries and stressful working conditions on Wednesday.
It is the latest demonstration which has seen medical professionals take to the streets to highlight issues such as staff shortages and low wages.
Across Europe, nurses, doctors, teachers and other professionals have paralised basic services in an attempt to voice their concerns.
The protest rally was organised by the Trade Union of Nursing which coordinates over 6300 Slovenian nurses.
Watch video in the player above.