Russia accuses Ukraine of 'staging' justification to invade Moldova
Comments
By euronews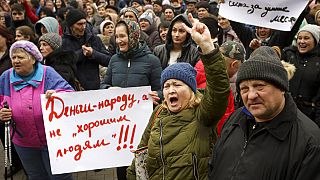 -
Copyright

Aurel Obreja/Copyright 2023 The AP. All rights reserved.
Russia's defence ministry has accused Ukraine of planning to invade Moldova's breakaway Transnistria region after a false-flag operation, the RIA news agency reported.
According to RIA, the ministry claimed Ukraine planned to stage an attack, purportedly by Russian forces, in Transnistria as a pretext for the invasion.
But it was Russia's president Vladimir Putin who this week revoked a decree that had committed Russia to a settlement in Transnistria that respected Moldova's territorial integrity.
The Institute for the Study of War (ISW) says the move does not indicate that Putin intends to attack Moldova - an undertaking for which he lacks military capability - although it does point towards an escalation in his ongoing efforts to undermine the Moldovan state.
Moldova's President Maia Sandu said earlier this month the country had intelligence which suggested Russia was plotting a coup to "overthrow" the Moldovan authorities and sow chaos in the small former Soviet republic.
When Russia invaded Ukraine a year ago, Moscow wanted to create a land corridor through southern Ukraine to the Moscow-backed breakaway region of Transnistria - a narrow strip of land almost 200km long and 30km wide between the Dniester River and Moldova's eastern border with Ukraine.
Transnistria is not recognised as a sovereign state by the international community or, indeed, even by Russia, although since 1992 just under 2,000 Russian soldiers have been stationed there.  
In recent days, Russia's president has once again revived his imperialistic narrative that Russia is fighting for "historic frontiers".
The concept has already been used in attempts to justify the Ukraine invasion and could be used to justify aggression against almost any of Russia's neighbours, as well as Moldova.