Ukrainians who have fled to Poland learn how to settle in their host nation
Comments
By Magdalena Chodownik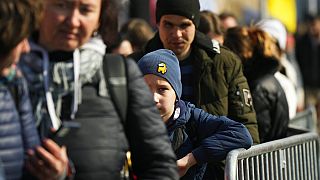 -
Copyright

Sergei Grits/Copyright 2022 The AP. All rights reserved
Over the last year, over 9.5 million Ukrainians came to Poland. Nearly 8 million of them have returned. They were mainly women and children.
About two-thirds of those who stayed managed to find work. During this year, Ukrainians opened almost 20,000 companies in Poland, as well as other initiatives, such as Ukrainian schools.
Natalia Rovytska is a teacher in the Ukrainian school in Warsaw.
"Children have to learn either in some other school, or in their Ukrainian school online, or go to Polish schools," she says. Hence the need for a Ukrainian school in Warsaw. "There is simply not enough space in Polish schools."
Mark Ovierko is a student at the school where Natalia teaches. He is happy to study in Ukrainian. It is also a good option for those who don't have precise plans.
"My options are a Polish high school or somewhere further away," he says. "Because I am actively learning English. If I succeed, then maybe we'll go to England. That is also a consideration, but for now, we are in Poland for one year, and maybe we will go back to Ukraine. Yes - the plans change every day.
"You know, I have this feeling of gratitude," says Natalia. "I came here to Poland and this family took me in and they took me into their family, people I didn't know.
"We understand that nobody owes us anything, we should earn our own money, and that's why we work. We understand that our children are our future."
Help is still needed
But experts warn that despite the success of the humanitarian response, many Ukrainians still need help to sustain themselves.
"Migrants are more or less adapted, right," says Marta Jaroszewicz, Migration Research Center, University of Warsaw. "But now, there is an issue of their access to labour market, massive problems concerning apartments. This is the time that we need to think of more long-term strategy."
The war in Ukraine has resulted in the largest refugee migration in Europe since WWII and it is a big challenge for neighbouring countries. There are still about 1.5 million Ukrainians in Poland alone. Most of them have not made long-term plans and, although many of them will stay in the country, most of them would like to return home as soon as possible.