Fact-check: What's behind the anti-Zelenskyy graffiti popping up all across Europe?
Comments
By The Cube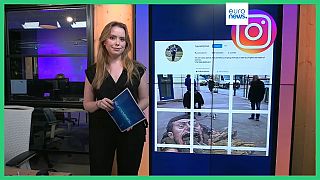 Over the past weeks, a grotesque series of street art depicting Ukrainian president Volodymyr Zelenskyy has circulated on social media in several European countries.
These graffiti depict the Ukrainian president eating Europe, or money, are said to have appeared in Paris, London, and Warsaw. 
This image was shared by many social media accounts as well as by pro-Kremlin news outlets.
It claims to show Volodymyr Zelenskyy swallowing money and is supposedly located in a suburb of Paris, in front of the Saint-Mandé metro station. 
The Cube's goal was to verify whether this image was altered or not. First, we conducted a reverse image search but didn't find anything conclusive. 
The photo was then put into digital forensic analysis software which showed an important difference in the colour and intensity between the graffiti and the background, strongly suggesting that the image had been doctored. 
But that's not enough to prove the graffiti never existed. The Cube also researched any references to the street art online but there were no articles or other social media posts showing the graffiti from another angle. 
Journalists from AFP said they called hotels as well as the shops around that metro station. None of them saw the graffiti at any moment in time. 
This leads to the conclusion that the photo was digitally altered. 
Similar graffiti in Poland and the UK
A similar image of the Ukrainian president drawn in an identical style to the Paris cartoon also appeared on social media, purportedly in Warsaw. 
However, Polish news outlet Konkret24, fact-checked the images and also concluded that no trace of the street art was ever found. 
This graffiti depicting Zelenskyy as feces also supposedly showed up in London. 
But according to an investigation by LeadStories, the building in the social media post isn't located in London but in Zurich, Switzerland. 
The building belongs to the Lindt Chocolate factory and on a recent video captured on Google Maps, you can spot the identical white seats and Christmas trees. 
 According to Lindt's director, no graffiti of Zelenskyy had ever appeared in front of the building. 
Who is behind this disinformation campaign?
The street art was traced back to an Instagram account called Typical Optical. 
The profile only has one image cut up into nine smaller ones and the account claims to be an art-group from Poland. 
The Cube contacted for the account for a comment but has yet to hear back. 
But why go through the hassle of creating these fake images? It's been a common theme for pro-Kremlin propaganda to push the narrative that Zelenskyy and Ukraine are a black hole sucking up Europe's money.
According to experts, the intention of these photos -- and the fake graffiti -- is to make Western residents question how much support their governments should be giving to Ukraine.