Brazil's ex-leader Jair Bolsonaro resurfaces in Miami still confused he lost election
Comments
By Euronews with AP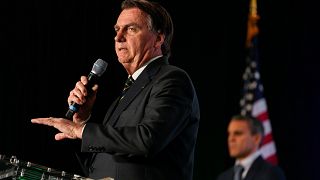 Only a few weeks after his supporters stormed the seat of his country's government, former Brazilian President Jair Bolsonaro on Friday expressed bafflement at how he could have lost October's election.
He did not directly address the 8 January assault on the buildings housing Brazil's Congress and Supreme Court during his appearance in Miami before a conservative group tied to former US President Donald Trump.
Bolsonaro had mimicked Trump's strategy during his own 2020 reelection campaign, for months sowing doubts about the reliability of Brazil's voting machines and then filing a petition to annul millions of votes. He is now under investigation for allegedly inciting the uprising.
Like Trump, Bolsonaro has not conceded the election, though, unlike the former US president, he also has never explicitly said he lost due to fraud. 
During a question-and-answer session with Charlie Kirk, head of the conservative Turning Point USA, the former Brazilian president rattled off his administration's accomplishments and then provided backers with an opening.
"Brazil was doing very well," Bolsonaro said. 
"I cannot understand the reasons why (voters) decided to go to the left."
After the cries of "fraud" died down, Kirk, who helped spread Trump's own election fraud lies after the former US president's loss, replied, "All I can say is, that sounds very familiar."
The event took place at Trump's Miami hotel. Friday's appearance marked part of Bolsonaro's reemergence after spending several weeks in a central Florida suburb. He spoke to some supporters there earlier this week before taking the stage late Friday afternoon.
For more watch Euronews' report in the video above.