Record turnout as Pavel sweeps to victory in Czech Republic's presidential elections
Comments
By Ádám Magyar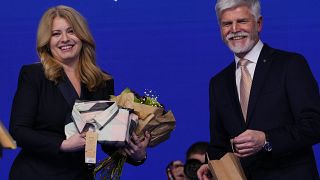 -
Copyright

Petr David Josek/Copyright 2023 The AP. All rights reserved
Retired general Petr Pavel received a million more votes than his opponent Andrej Babis to win the Czech Republic's presidential election.
There was a record turnout in the second round of the election with more than 70 per cent of people exercising their right to vote.
In Prague, Pavel won 76 per cent of the vote compared to 58 per cent nationally. While he received particularly strong support in the capital, Babis proved more popular in border regions, especially in the northwest and northeast.
One man from Prague said: "I am very proud of being Czech now that Mr Pavel is going to be President of the Czech Republic. This is a special moment."
In Znojmo, a town close to the border with Austria, Babis won by a small margin.
One voter there said that the results showed Mr Babis has been popular in smaller communities such as his.
Many Czechs are wondering if former Prime Minister Andrej Babis, who is a billionaire businessman, will continue to play an active role in the country's politics.
Watch the full report by clicking on the media player above.