Opposing farmer protests in Berlin mark International Green Week
Comments
By Euronews with EBU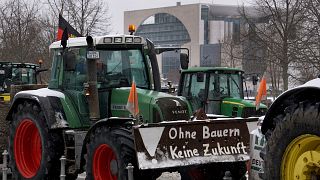 -
German farmers have taken advantage of International Green Week to hold a protest in the capital Berlin on Saturday. 
Riding 55 tractors, farmers said they wanted to get rid of what they call a "restrictive" environmental regulation. The rally was organised by the We're Fed Up movement. 
At the same time, thousands held a protest calling for more sustainable farming.
They want to see fair producer prices, more organic farming and more arable land for growing human food instead of fodder for livestock.
Many carried banners and signs, others large balloons bearing slogans such as "Protect insects" and "Agribusiness Kills!"
For more watch Euronews' report in the video above.