Trade unions in France reject pension reform and plan a national strike
Comments
By Euronews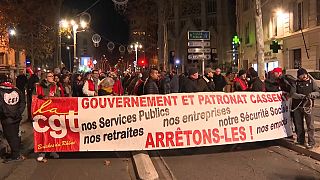 French trade unions are warming up ahead of a national strike day on Thursday that they are hoping will bring the whole country to a standstill.  On Tuesday, hundreds of protesters walked through the heart of Marseille carrying torches and posters to show their outright rejection of the government's reform of the pension system.
The plan, unveiled a week ago, delays the minimum retirement age from 62 to 64 by 2030, and eliminates most of the current special regimes.
Speaking in the National Assembly, France's prime minister insisted the country has no choice but to implement the proposals. 
"The number of working people compared to the number of pensioners is falling," Elisabeth Borne told members. "In 2005, there were two working people for every pensioner. Today there are 1.7 and tomorrow 1.5. We must therefore restore the balance of our pension system."
The plan also proposes that from 2027 people will have to have worked for at least 43 years to get a full pension. Ms Borne said if the reforms go ahead then the by 2030 the system will be financially balanced.
The left is totally opposed to the government's initiative, which was included in the programme on which President Emmanuel Macron was elected.
Watch the video in the player above.