'A collective delusion': Brazillians share their views on attempted insurrection
Comments
By Euronews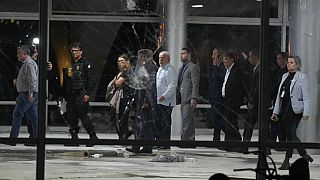 -
Copyright

Eraldo Peres/Copyright 2023 The AP. All rights reserved
It's been one week since protesters clashed with police and stormed Brazil's government buildings in the capital Brasilia
A day set to remain engraved in the country's collective memory. In Sao Paolo, Euronews' Anelise Borges has been speaking to Brazilians about how they feel about the events.
"It was revolting… revolting, outrageous. I felt sick that night, to be honest, and decided to stop watching the news," one woman said.
"My reaction was astonishment, some shock," another man said.
"For me, it was a collective delusion because people were led to do something absurd thinking they were acting the right way, fighting for an ideal… It was a crime and it must be punished."
Several investigations are ongoing into who was behind the protests which, on 8 January, called for President Luiz Inácio Lula da Silva to be ousted and for the army to takeover.
Many, including sociology teacher Leo Puglia, said the message could not be more clear.
"It was a coup attempt, actuall," he said.
"We don't know exactly who was behind it - that is under investigation - or what the plan was… But it was a coup attempt."
Lula's comeback has been remarkable, even to his supporters. But he is now faced with arguably his most difficult task yet: attempting to heal a divided Brazil.
For more watch Euronews' report in the video above.