Fierce fighting rages in Soledar, Russian eyes fixed firmly on Bakhmut
Comments
By Euronews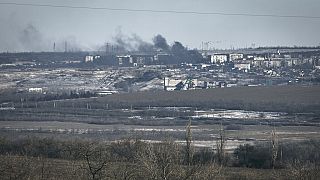 Copyright

LIBKOS/Copyright 2023 The AP. All rights reserved.

-
Russia's quest to seize control of Ukraine's eastern city of Bakhmut appears to be hanging on the ongoing battle for Soledar, a town located in Donetsk Oblast which is witnessing some of the fiercest fighting of the war so far.
The fate of Soledar is still unclear, with Russian mercenary group Wagner claiming to control the gateway town while the Kremlin cautioned against declaring victory prematurely. 
Kyiv's border guard Service has released images claiming to show Ukrainian forces stopping an advance of Russian troops in the town.
Soledar is strategically important for Russia. If Moscow prevails it will aid its assault on the strategic Ukrainian city of Bakhmut which Russia needs in its quest to capture all of the Donbas.
For more than five months, constant Russian shelling has left the city of Bakhmut in ruins. Around 70,000 people used to live there - now only about 10% of the population is left.
"Our task is surviving, both the night and the day. That's how I look at it. And of course, it would be nice to be able to cook some food during the day," said one Bakhmut resident. "The city is still holding the ground, thank God. Bakhmut is a fortress."
While it remains difficult to see which side is gaining the edge in the region - there is little doubt that there have been heavy losses on both sides.