Ukrainian villagers cling on despite constant shelling
Comments
By Euronews with AP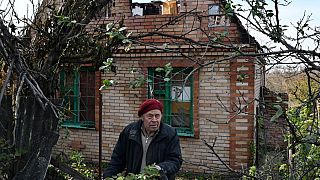 -
In the village of Bohorodychany in the Donetsk region of Ukraine, there are almost no houses left.
The remaining residents spent Orthodox Christmas on Saturday in their destroyed homes with limited electricity and water.
Among them was the Honchar family: 91-year-old Nina and her 58-year-old son Mykola Honchar.
They were in the village during the fighting and during the Russian occupation.
Mykola questioned Russians when they destroyed the church.
"What are the Russians? They are 'liberators'. Who did they come here to liberate? They are stupid. They shelled the church. I asked: 'What are you doing?' Do you know what kind of church is this?' I told them, this is a monastery of the Moscow Patriarchate. Why did you destroy the church?' They looked like sheep at each other."
His brother and brother's wife were killed during the shelling.
And his mother Nina lives in her destroyed home, with no financial means.
She said, "This is how we live. Where to go? To whom? My son was killed."
Mykola says he buried his brother and his brother's wife with the help of his neighbour.
Before the start of the full-scale war, hundreds of people lived in the village, while now only around 10 residents remain.