'This is our contribution to the victory': Ukrainian mechanics fix up old cars for war effort
Comments
By Euronews with AFP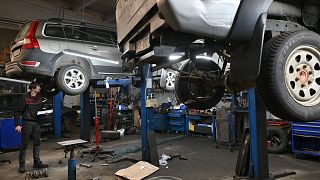 -
In this auto repair shop in Kyiv, old beat-up cars are getting a second chance on the road: as battle-ready vehicles for Ukrainian forces.
Before Russia's full-scale invasion, the garage repaired cars that had been in accidents. But that changed in February of last year, when volunteers contacted the mechanics to donate cars.
"We are not a wealthy country, and the state cannot provide all our soldiers with armoured four-wheel-drive vehicles, so pickups are a compromise," Anton Senenko, a volunteer coordinating the effort, said.
Many of the cars are donated or purchased through fundraisers. And some people even imported cars from neighbouring countries, such as Poland, Estonia and Latvia.
The shop has sent around 50 cars and buses to the eastern front. According to its mechanics, some vehicles have already travelled more than 15,000 km without breaking down.
"When you see that the cars last for months, it really warms the soul," Vlad Samoilenko, another volunteer mechanic, said.
"It also inspires us. Despite the accumulated fatigue, and various psychological and emotional pressures, you see the gratitude of the military and the support of the people, and you see that everything you invested continues to serve and help destroy our enemy."
Since the war began, the requests from the frontlines have evolved depending on soldiers' needs.
The Ukrainian military is now requesting cars with four-wheel drive and off-road tires, a change from its previous call for vehicles with two-wheel drive.
Soldiers also first asked the mechanics to paint the cars green so they could disappear into the landscape. But now, as winter sets in, the soldiers are asking for their cars to be painted grey or black.
"This is our contribution to the victory," Ruslan Kulagin, the owner of the repair shop, said.