Boris Johnson admits 'tough night' as Conservatives lose ground in local elections
Comments
By Euronews with AP, Reuters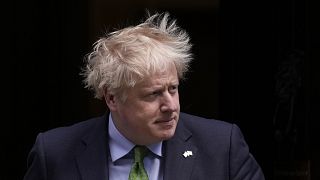 -
Results from the UK's local elections show Boris Johnson's ruling Conservatives have lost control of traditional strongholds in London and parts of southern England.
Voters have seemingly punished the prime minister and his government over a series of scandals and a cost-of-living crisis. 
But the Labour opposition may not have made the gains it had hoped for.
Significantly, Johnson's party lost Wandsworth in south London, prized as a low-tax Conservative symbol that first turned blue in 1978, the year before Margaret Thatcher came to power. It has also lost Westminster, a district where most government institutions are located — and Barnet in north London, a council it had held in all but two elections since 1964. 
Johnson, speaking in west London, said it had been a "tough night" in some parts of the country and his government had heard the demands from people for more help with the cost of living.
The Conservatives also lost ground to the centrist Liberal Democrats in the Tories' southern England heartlands, where many middle-class voters are opposed to Brexit — a cause Johnson championed.
But the party has not done as badly as some polls had predicted and the overall picture is less clear-cut.
Results in mid-morning showed that the main Labour opposition had not made big gains outside of the capital, especially in working-class northern England.
Johnson successfully wooed such areas in the 2019 general election with promises to improve local economies and opportunities after Britain's exit from the European Union.
Even so, Labour leader Keir Starmer hailed a "fantastic result" and "a big turning point for us".
Thursday's elections will decide almost 7,000 council seats, including all those in London, Scotland and Wales, and a third of the seats in most of the rest of England.
In Northern Ireland, where results are due later on Friday, Sinn Fein could well become the first Irish nationalist party to win the most seats. 
The final results will offer the most important snapshot of public opinion since the 2019 election when Boris Johnson led the Conservatives to a landslide win and the party's biggest majority in more than 30 years.
The Conservative defeats in London, where they were almost wiped out, will increase pressure on the prime minister who — at least until the Russian invasion of Ukraine — was fighting for his political survival.
Last month Boris Johnson became the first British leader in living memory to have broken the law while in office, when he was fined for breaking COVID-19 lockdown rules. More police fines could follow over his attendance at other gatherings.
As the results came in, some local Conservative leaders urged Johnson to resign.
But Conservative Party chairman Oliver Dowden defended the prime minister as "a change maker" and praised his "bold leadership".