Ukraine war: Zelenskyy says he still wants peace, despite atrocities of war
Comments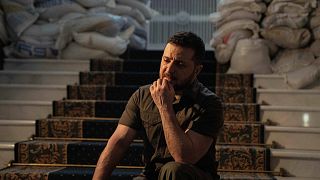 -
Copyright

AP Photo/Evgeniy Maloletka
The war in Ukraine is now well into its sixth week, and taking on a new dimension with growing evidence of human rights atrocities by Russian troops as they retreated from the Kyiv region and other parts of the north.
Despite Moscow's blanket denials, horrific discoveries of civilian murders and other barbaric acts are coming to light.
As Vladimir Putin's forces concentrate their offensive on eastern Ukraine, NATO and the EU have promised Kyiv more weapons, and Western nations are tightening sanctions against Moscow.
Follow Sunday's events as they unfolded in our blog below, or watch TV coverage in the video player above.
04.10.2022
09:54
Sunday's key points: 
Austrian Chancellor Karl Nehammer will visit Moscow on Monday for talks with Vladimir Putin, the first EU leader to visit since the start of the war. 
Pope Francis has used his Palm Sunday address to call for an "Easter truce" in Ukraine as he lamented "the folly of war."
Russia has appointed a new Ukraine war commander. General Alexander Dvornikov is a veteran of the Russian campaign in Syria. 
In a new interview, President Zelenskyy says Ukrainians still want peace, despite the atrocities of war they have witnessed. 
Britain's Ministry of Defence says Russia needs to boost troop numbers with extra recruitment, due to mounting losses in Ukraine war. 
President Zelenskyy says Russia is targeting all of Europe with its aggression, and that stopping the invasion of Ukraine is essential for the security of all democracies.
04.10.2022
19:57
That's our live blog coming to an end for Sunday evening, we're back on Monday morning with more live updates on the Ukraine-Russia war, as the Austrian Chancellor visits Moscow for talks with Vladimir Putin, and as EU foreign ministers meet in Luxembourg to discuss another round of sanctions. 
04.10.2022
18:34
Pro-Russia rallies in Germany
Around 350 vehicles took part in a pro-Russian motorcade through the streets of the German city of Hanover on Sunday.
At the same time some 3,500 pro-Ukrainian demonstrators also gathered in the city, police said, and were able to stop the motorcade shortly after it started.
Police, including mounted officers, were brought in to separate the two groups and escort the motorcade, which continued along a different route.
There were verbal clashes between the two camps.
A pro-Russian rally was also held in Frankfurt on Sunday, attended by around 800 people.
Pro-Ukrainian demonstrators held two much larger gatherings in the city, attended by around 2,500 people, according to police.
04.10.2022
18:15
Austrian Chancellor to visit Moscow on Monday
The AFP news agency is reporting that Austrian Chancellor Karl Nehammer will meet Russian President Vladimir Putin on Monday. 
Nehammer will become the first European leader to meet Putin in Moscow since Russia's invasion of Ukraine began on 24 February, the Austrian Chancellery said. 
"He is going there having informed Berlin, Brussels and Ukrainian President Volodymyr Zelensky" to encourage dialogue, said a spokesman for the Chancellor. 
Nehammer was in Kyiv on Saturday morning where he held talks with Ukraine's leaders. 
04.10.2022
17:33
Dnipro airport "completely destroyed" by latest Russian attack
The airport at Dnipro in eastern Ukraine was bombed by Russian forces again on Sunday, with the regional governor saying it's been "completely destroyed." 
"New attack on Dnipro airport. Nothing remains of it. The airport itself and nearby infrastructure have been destroyed. And the missiles continue to fly," Governor Valentin Reznichenko wrote on Telegram
However journalists heard a plane taking off, a sign that the runway was likely not affected by the latest strike. 
Governor Reznichenko says local authorities are "in the process of determining the number of victims." 
Dnipro airport had already been hit on March 15 by a Russian bombardment: the governor claimed at that time that the runway had been "destroyed" and the terminal "damaged". 
Dnipro, an industrial city of one million inhabitants and a majority Russian-speaking population. It has been relatively spared from the fighting between Ukrainian and Russian forces so far.
04.10.2022
16:36
Russia appoints new Ukraine war commander
Russia has appointed a new Ukraine war commander, turning to General Alexander Dvornikov, 60, one of Russia's most experienced military officers and -- according to American officials -- a general with a record of brutality against civilians in Syria and other war theaters. The senior official who identified the new commander was not authorized to be identified and spoke on condition of anonymity.
But the White House national security adviser, Jake Sullivan, said in a Sunday television interview that "no appointment of any general can erase the fact that Russia has already faced a strategic failure in Ukraine."
"This general will just be another author of crimes and brutality against Ukrainian civilians," Sullivan told CNN.
The decision to establish new battlefield leadership comes as Russia gears up for what is expected to be a large and more focused push to expand Russian control in the Donbas and follows a failed opening bid to conquer Kyiv.
Dvornikov gained prominence while leading the Russian group of forces in Syria, where Moscow has waged a military campaign since 2015 to shore up President Bashar Assad's regime during a devastating civil war.
Dvornikov is a career military officer and has steadily risen through the ranks after starting as a platoon commander in 1982. He fought during the second war in Chechnya and took several top positions before being placed in charge of the Russian troops in Syria in 2015.
In 2016, Putin awarded Dvornikov the Hero of Russia medal, one of the country's highest awards. Dvornikov has served as the commander of the Southern Military District since 2016.
(AP) 
04.10.2022
16:11
Prosecutor: More than 1,200 bodies discovered in Kyiv region
Ukraine's prosecutor general says more than 1,200 bodies have been discovered so far in the Kyiv region, partly occupied for several weeks by Russian forces. 
Speaking on Britain's Sky News, Iryna Venediktova says there have also been 5,600 investigations opened into alleged war crimes by Russian forces since the Kremlin launched an invasion of neighbouring Ukraine on 24 February. 
(AFP)
04.10.2022
14:40
Finland returns confiscated art to Russia
Finland says that a shipment of art works from Russian museums has been returned to Russia, after it was seized under European Union sanctions against Moscow.
Finland's customs service said late Saturday that the Foreign Ministry granted a special permit to return the consignment with a total insured value of around 42 million euros. It said that trucks carrying the art works from the Hermitage Museum and the Pavlovsk State Museum in St. Petersburg, among others, left Finnish territory on Saturday afternoon.
The shipment was seized at the Vaalimaa border crossing at the beginning of April. The works were en route to Russia after loan to museums in Europe and Japan. Experts say that art works loaned from Russia typically travel overland via Finland.
Russia has demanded the return of all works on loan to "unfriendly" nations that imposed sanctions following its invasion of Ukraine.
(AP)
04.10.2022
14:39
More sanctions on the agenda for EU foreign ministers 
EU foreign ministers will discuss a 6th sanctions package against Moscow on Monday in Luxembourg, but calls to cut off oil and gas purchases, which in part finance Russia's war efforts, has divided the 27 member nations.
"We have just imposed heavy sanctions on Russia and we are preparing for a sixth wave," European Commission President Ursula von der Leyen announced on Friday during her visit to Kyiv. 
Ukrainian President Volodymyr Zelensky continues to ask all his European interlocutors "for the adoption of powerful sanctions". He is calling for a halt to oil and gas purchases and the supply of heavy weapons.
The EU's de facto foreign minister Josep Borrell announced his intention to launch the discussion on an oil embargo on Monday, "but a formal proposal is not on the table", the senior European official admitted on Friday.
"Unanimity is necessary for the adoption of sanctions. We can clearly see the dependencies vis-à-vis Russia in several Member States", he underlined.
Germany, Italy, Austria and Hungary are very dependent on Russian gas.
"We are not going to present something that will not pass. Proposals must be made at the appropriate time," he explained. 
Since the start of the war in Ukraine in late February, the Kremlin has made $27.3 billion from EU oil, gas and coal purchases, according to Velina Tchakarova, director of the Austrian Institute for Europe and the security policy (AIES).
The EU has decreed an embargo on the purchases of coal but their amount is much lower than those of gas and oil.
(AFP)