Ukraine war: 'In every barrel of oil, there is Ukrainian blood', Ukrainian MP tells Euronews
Comments
By Euronews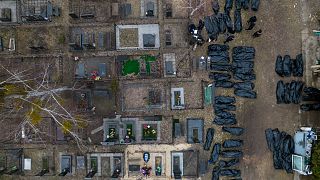 Ukrainian MP Oleksiy Goncharenko has called for Europe to immediately stop all business with Russia after witnessing "unbelievable horror" in his country.
He was speaking to Euronews after visiting the city of Bucha near Kyiv where images of dead civilians lying in the street have shocked the world.
Goncharenko said he saw up to 50 dead civilians in areas around the Ukrainian capital and claimed that Russian forces in the southeastern city of Mariupol were now using mobile crematoriums to destroy evidence of further atrocities.
"Now Russians are moving to Mariupol, which is partly under their control already, with mobile crematoriums just to burn the bodies, just to not leave evidence, and then they will say 'all these people are missing'.
"But now we know they are collecting the bodies throughout the city and they will burn them [...] in these crematoriums.
"It's unbelievable horror. And it's happening in the middle of Europe, in the 21st century.
"So that's why it's so important to stop any business with Russia. Stop buying their oil and gas, because in every gallon, in every barrel of oil, there is Ukrainian blood. In every cubic metre of gas, there is Ukrainian blood."
The scenes in Bucha, which sparked Ukraine to accuse Russia of war crimes and genocide, brought international condemnation.
Russian President Vladimir Putin has branded the claims a "crude and cynical provocation".
Bucha prompted the European Union to propose banning imports of Russian coal. But experts have told Euronews the sanctions on Moscow "will not be real" until they are extended to Russian oil and gas, which parts of Europe are hugely reliant on.
EU foreign affairs chief Josep Borrell said energy was key to Putin's war coffers. And because the war has pushed prices higher, Russia has benefitted from being able to sell its natural gas and oil to the rest of the world.
"A billion euros is what we pay Putin every day for the energy he provides us since the beginning of the war. We have given him €35 billion. Compare that to the one billion that we have given to Ukraine in arms and weapons," Borrell said.
After several European countries announced the expulsion of Russian diplomats, the European Commission proposed a fifth package of sanctions including a ban on coal imports that could be adopted once unanimously approved by the 27-nation bloc's ambassadors.
European Commission President Ursula von der Leyen said the coal ban is worth 4 billion euros ($4.4 billion) per year and that the EU has already started working on additional sanctions, including on oil imports.
She didn't mention natural gas, with consensus among the 27 EU countries on targeting the fuel used to generate electricity and heat homes difficult to secure amid opposition from gas-dependent members like Germany, the bloc's largest economy.
But European Council President Charles Michel said the bloc should keep up the pressure on the Kremlin, suggesting that an embargo on gas imports should also be required at some point in the future.
"The new package includes a ban on coal imports," Michel said on Wednesday. "I think that measures on oil, and even gas, will also be needed, sooner or later."