Ratko Mladić loses appeal in The Hague over convictions for Bosnia genocide and war crimes
Comments
By Euronews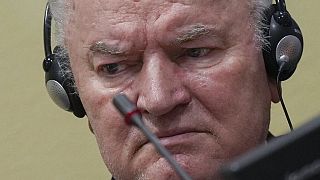 -
Copyright

Peter Dejong/Copyright 2021 The Associated Press. All rights reserved
Former Bosnian Serb military commander Ratko Mladić has lost his appeal against his 2017 convictions for genocide, war crimes and crimes against humanity.
The man known as the "Butcher of Bosnia" for his part in the 1995 Srebrenica massacre appeared calm on Tuesday as the verdict against him was read out in The Hague.
Judges dismissed, by a vote of 4-1, all of Mladić's appeals against the 10 charges against him and upheld his life sentence.
Reading out the verdict, a UN prosecutor called Mladić one of "the most notorious war criminals in modern history". 
He was acquitted of one charge of genocide in six Bosnian municipalities in 1992.
The crushing verdict was welcomed by families who lost loved ones to atrocities committed during the three-year sectarian war.
Nedziba Salihović, whose son and husband were killed, was among those watching the court hearing on a large screen in Srebrenica.
"This means a lot to me," she said. "He was punished. It is not important where he'll end up [to serve his sentence]. 
"Like the mothers of Srebrenica, he'll spend the rest of his life without his family."
Who is Ratko Mladić and what did he do?
Now aged 78, Ratko Mladić is the last major figure to face justice for atrocities committed during the Bosnian War.
He began his military career with the Yugoslav People's Army in the 1960s and led the Army of Republika Srpska during the Bosnian War of 1992 to 1995.
The conflict saw more than 100,000 people killed and left millions homeless. As the army's Chief of Staff, Mladić led troops numerous deadly campaigns, including the 1995 Srebrenica massacre and the siege of Sarajevo.
The Srebrenica massacre in July 1995 has long been considered the worst atrocity committed in Europe since World War Two.
From July 12 of that year onward, Serb soldiers began separating out and systematically executing military-aged men from the besieged enclave.
In the course of just 11 days, as many as 8,000 Bosnian Muslim (Bosniak) boys and men were killed by units under Mladić's command and buried in mass graves with bulldozers.
To this day, the slaughter is the only instance of genocide in Europe to be recognised by two international courts. Thousands of women and girls were also subjected to rape and sexual abuse.
Mladić was first indicted that same month, but went into hiding after the war ended in December 1995 and remained at large for 16 years, eventually becoming the most-wanted fugitive from the Bosnian War.
He was finally arrested in 2011, after he was found in a village in northern Serbia living under a false name, and handed over to the United Nations' International Criminal Tribunal.
The UN Tribunal has since closed its doors. Mladić's appeal and other matters have since been dealt with by the U.N.'s International Residual Mechanism for Criminal Tribunals, which is housed in the same building in The Hague.
What led up to the genocide?
The former Socialist Federal Republic of Yugoslavia was broken up into separate entities between 1991 and 1999, sparking bloody interethnic conflict.
The Bosnian War was the deadliest and was sparked by the creation of the multi-ethnic Republic of Bosnia and Herzegovina in February 1992.
The new territory was mainly inhabited by Muslim Bosniaks, Orthodox Serbs and Catholic Croats while Bosnian Serbs rejected its establishment.
This, in turn, led to a military campaign by Bosnian Serbs, led by Radovan Karadžić and supported by the Serbian government of Slobodan Milošević and the Yugoslav People's Army (JNA), which later became the Army of Republika Srpska.
Karadžić has also since been jailed for life for war crimes while Milošević died in his prison cell in The Hague in 2006.
These leaders mobilised forces inside Bosnia and Herzegovina in a bid to secure what they perceived to be ethnic Serb territory. The conflict spread across the rest of the country, accompanied by ethnic cleansing.
More than 2 million Bosniaks and Croats were forced from their homes during the conflict. By the end of the war in 1995, at least 100,000 people were believed to have been killed. An estimated 12,000–50,000 women - many Bosnian Muslims - were also raped, mostly by Serb forces.
The war was finally brought to an end after NATO intervention in 1995. However, Mladić's legacy still divides Bosnia and he and Karadžić continue to be revered by far-right groups for their bloody wartime campaigns.
The impact of the verdict
The verdict against Mladić's appeal was welcomed by international human rights organisations as well as victims' family members on Tuesday.
One of those watching was Nedžad Avdić, who survived Srebrenica as a boy by hiding in a mass grave and has since become an activist raising awareness of genocide.
He said he was satisfied with the verdict, "even though nothing can erase what we've been through, nor bring back our dead."
In The Hague, Munira Subašić, whose son was murdered at Srebrenica, said the same. "My message for all young people in Serbia and Republika Srpska is to take judgments and indictments and study them, stop hating, and create a better future for themselves and our children."
Kathryne Bomberger, director-general of the International Commission on Missing Persons, which has helped to locate and identify victims of atrocities in Bosnia, said it was "an important affirmation of the rule of law".
She added: "Ramifications of the judgement go beyond the Western Balkans. This gives hope to survivors of atrocities, including the families of the missing and disappeared persons around the world, that justice can be delivered."
Amnesty International's Europe Director Nils Muižniek said the verdict "sends a powerful message around the world that impunity cannot, and will not, be tolerated."
But, he said, the "physical and psychological scars" of the Bosnian War remained. "It is important to remember that thousands of cases of enforced disappearance remain unresolved, and thousands of victims and their families continue to be denied access to justice, truth and reparation."
Despite his convictions, for many Bosnian Serbs, Mladić is still seen as a heroic wartime commander. The war criminal had a street named in his honour in his home village following the Bosnian War, according to Reuters.