COVID-19 pandemic has made workers and employers closer, union says
Comments
By Euronews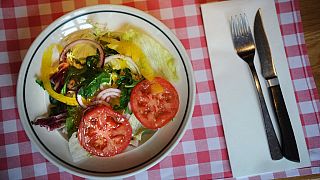 Copyright

CHRISTIAN CHARISIUS/AFP
Social dialogue between employers and employees has been improved due to the pandemic, according to one of Europe's largest trade unions.
In a new report published by the European Trade Union Institute (ETUI), more than 30 sectors have managed to find common ground in the face of COVID-related restrictions.
Enrico Somaglia, Deputy General Secretary of the European Federation of Food, Agriculture and Tourism Trade Unions, told Euronews that the food industry took just ten days from the beginning of negotiations with social partners to issue a joint statement.
"I think it was a common approach that we had. I think we realised immediately that, in particular, the agricultural sector and the food processing industry, these were two sectors that were essential, that are essential," Somaglia explained.
"And therefore we realised immediately that it made a lot of sense to come together and try to agree on a common approach, on joint strategies, in order to ensure that the sector could continue running."
The organisation FoodDrinkEurope, which represents nearly 300,000 food companies, says this kind of cooperation made it possible to negotiate with the authorities and avoid any disruption to supply chains.
"We see more and more that the objective is to obtain compromises because that's what it is, you have to arrive with compromises," Evelyne Dollet, Director Economic Affairs at FoodDrinkEurope told Euronews. "Arriving with an organisation's position doesn't really help. So, on the other hand, arriving with compromises with our social partners and with other actors in the chain is what works in fact."
The current crisis, and above all this type of dialogue, has also revealed the essential role of non-traditional workers, according to the author of the ETUI report, Christophe Degryse.
"This time we also had to take into account the self-employed, suppliers, subcontractors, we had to take into account posted workers, seasonal workers, for example, in short, all the workers to whom little attention is generally paid, at least in the social dialogue forums. And that had to be taken into account to be able to really ensure the security of the economic recovery," Degryse told Euronews.
He also says that this new kind of dialogue is a far cry from when the 2008 financial crisis hit.
"While the 2008 crisis resulted mainly in a political retreat from social dialogue and social consultation, the European and national responses to this crisis is trying, more or less, to involve social partners in managing the crisis. In other words, these interlocutors are considered more as part of the solution rather than as part of the problem, which was rather the case in 2010-2011," Degryse said.