What's it like organising a fashion week amid a pandemic?
Comments
By Euronews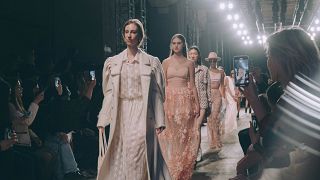 -
Copyright

Courtesy MBFW Russia
For more than a year now, the catwalks of Milan, Paris and other fashion capitals have relied on digital technology to work during the pandemic. Most of the shows at Russia Fashion Week take place offline. According to the organisers, in order to avoid becoming breeding grounds for the virus, they had to implement a strict sanitary code and radically limit the number of participants.
"This year we are holding Fashion Week at the Museum of Moscow, not at the Manezh, where we held it since 2012. It's a beautiful venue, but it also makes it possible to limit the quotas, makes it possible to make a more intimate event," Alexander Shumsky, president of the National Fashion Chamber, told Euronews.
The Moscow Manezh, which is located in the heart of the Russian capital, can accommodate up to 50,000 people. Restaurants, cinemas and other crowded places are open in Moscow. At the request of Rospotrebnadzor from January 22 platforms are allowed to increase the allowed number of spectators up to 50 per cent of the total capacity of the hall.
Each show of this season's fashion week attracts 200-300 people. Moving the event to the Museum of Moscow allowed the organisers to maintain the "energy and drive".
"The Manezh is a huge venue, 200-300 people at the runway would just get lost there. Here the event doesn't look abandoned," explained Shumsky.
Strictly restrictive measures
Fashion Week has strict sanitation protocols. For example, the backstage area, which the organisers call "sterile", can only be accessed by a special wristband which is issued after a person has submitted a certificate that he or she is not ill with coronavirus. This is a certificate of vaccination, antibodies or PCR test results.
"We have a doctor, we have a service that can do PCR right on site," Shumsky said. "All models, all stylists, designers, everyone who works in the backstage area are tested mandatory. We ask guests to wear masks."
One of the main problems the organisers had to solve was allowing spectators into the venue. To control the number of visitors, the organisers have introduced a special QR code.
"We control entry to the venue very strictly," he stressed. "Every show has a QR code. If a designer has handed out a thousand tickets, only 200 people will enter the show and the remaining 700 will remain outside the venue".
Strict restrictions are a necessity, he added. "We have to follow the recommendations of Rospotrebnadzor. This is a public event, it is a big responsibility. We want to be the source of an outbreak of contamination," Shumsky said.
Betting on digital
More than 70 designers from Russia, South Korea, Italy, Nigeria, Mexico, the UK and other countries are taking part in the event. Shows are held not only at the main venue in the Museum of Moscow, but also in other Russian cities: St Petersburg, Nizhny Novgorod, Kazan, Sochi and Chelyabinsk. The fashion week opened on April 19 and will end on April 24.
According to Shumsky, this season the organisers will pay special attention to the dissemination of content online. "It makes our event phygital (physical and digital). We do a lot of activity on social media, we stream all the shows and presentations on 100 websites. We also do shows in other cities as part of fashion week and collect them on our online platform. And we have shows this season not only from Moscow," Shumsky said.
"The ability to broadcast the event live creates a presence effect for a large number of people," he added. "It certainly gives a completely different spread of information, but it mitigates possible emotions."
According to Shumsky, making it an online-only fashion week is an impossible task.
"The disadvantage for fashion is that fashion is very tactile. People want to see clothes in motion. The atmosphere that exists at a show is not comparable to what you can get online. The personal presence effect for fashion is very important, especially for those who do it professionally: for journalists, for professionals, for buyers," stressed Shumsky.
Nevertheless, if the coronavirus infection does not recede, the organisers of Russian Fashion Week are ready to work again in a limited format.