Ederbidea: the cross-border cycling project providing a gateway to the Iberian Peninsula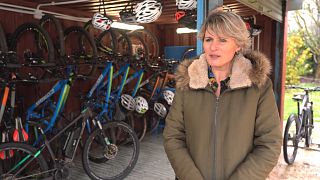 Maitena Ezkutari has been advocating the use of bicycles and gentle mobility in both the city and the countryside for years. She is at the head of the Ederbidea in Navarre.
"Ederbidea is a cross-border project that is very important for Navarra, because in this case Navarra is the gateway to some form of entry from Europe to the Iberian Peninsula."
"Therefore, Ederbidea is a truly transcendental project making this connectivity with Europe, to put us in a privileged position, in order to be able to attract tourists and potential tourists as well, and of course, to mobilise all the residents of the Pyrenees-Atlantic region, of Guipúzcoa, of Navarre, who can connect with each other more easily and safely."
"What we see is that in recent years, and even more so now with the pandemic, the bicycle is taking on a greater role as a vehicle and in Spain in general, this vehicle has started very late, hasn't it?"
"In the past it was used on a daily basis. It was somehow left aside in the big cities. For some years now, more and more land is being recovered for cycling."
"But it is still a challenge, an important challenge."