Verbier: British tourists flee COVID quarantine at Swiss ski resort
Comments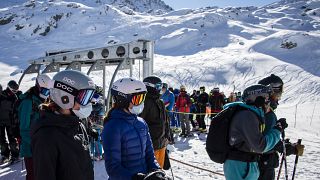 Copyright

Jean-Christophe Bott/AP

-
Hundreds of British tourists have fled a ski resort in the Swiss Alps despite being told to quarantine because of the new coronavirus variant.
The 200 Britons, which make up around half of those told to isolate in the upmarket resort of Verbier, are said to have made discreet night-time departures as they attempted to escape the latest restrictions.
"Many of them stayed in quarantine for a day before they left unnoticed under cover of darkness," local communications officer Jean-Marc Sandoz told SonntagsZeitung.
He added that it was not yet clear where many of them had gone as there had been no flights between the UK and Switzerland at that time. Some, he said, were known to have travelled across the border to France.
The Swiss government recently introduced the 10-day quarantine period for anyone who had travelled from the UK to Switzerland since December 14. A fine of 10,000CHF (€9,200) can be handed down for non-compliance.
This latest rule came as a response to the new variant of COVID-19, which is believed to be far more transmissible than the original, and was the reason for the British government's decision to drastically roll back plans for a relaxed Christmas.
Two British tourists who were interviewed by the Swiss SRF channel on the same day, said they would also be leaving Verbier for home.
"There's kind of no point being here; you have to be inside," one unnamed woman said.
"It's a shame to have come all of this way and not be able to go out really and get skiing because the reason people come is to get on the slopes. If you can't do that then there's no point being here, you might as well just go back home."
Huge swathes of the UK are currently under Tier 4 coronavirus measures - the highest possible tier with the strictest rules that were revealed last week as the effect of the new variant began to show.
Under these restrictions, citizens are told to remain at home and to avoid non-essential travel.
The new variant has also resulted in multiple countries temporarily closing borders to the UK and introducing new domestic measures in a bid to try and halt it's spread.
"That was the worst week our community has ever experienced," Sandoz said of the Swiss isolation, which a local hotelier also referred to when she likened her job to that of a prison guard.
The same hotelier said they had tried to make the situation as comfortable as possible by providing a Champagne breakfast for Christmas and a shopping service.
"We're trying to do a very difficult balancing act," the unnamed worker told SonntagsZeitung. "Some guests also make us responsible for their fate because we have given their personal details to the authorities."
According to Sandoz, some hoteliers had discovered their British guests had breached these restrictions after calls to their rooms were unanswered and food left outside their doors was left untouched.
He said he "couldn't blame them" for leaving and being "a little angry at Switzerland" as 20 square metre spaces were "untenable".
No cases of the new variant have so far been confirmed in Verbier; however, they have been discovered elsewhere in the country.
Two cases of traced back to the UK have been found, along with another two cases of a South African variant, according to the Swiss health ministry.