Sign up to Euronews' newsletter on European politics
Comments
By Euronews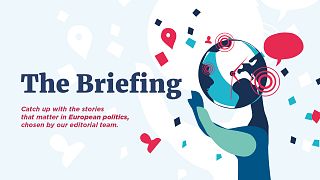 -
This year has been a year like no other with COVID-19 upending our lives and testing European solidarity.
But it's also a year that has been marked by the accelerated warming of our planet, the threats and opportunities new technologies bring, divisions concerning the rule of law, protests in Belarus, tensions in the Balkans, as well as the US Presidential election.
So to keep you informed and up-to-date with the latest developments on key issues, Euronews is launching The Briefing, a weekly political newsletter. If you would like to receive The Briefing, please sign up here:
Each Thursday, we'll bring you a selection of stories from our Brussels bureau and correspondents across the continent, including in-depth insights and expert analyses on European politics.
With just one click, The Briefing will take you across the continent to uncover what is happening in Brussels, how national governments are reacting and what kind of impact these decisions have on you.