UK could see 50,000 coronavirus cases a day if surge continues, warn top advisors
Comments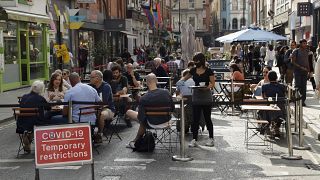 -
Copyright

Matt Dunham/AP Photo
The UK could see as many as 50,000 coronavirus cases a day if the current surge isn't stopped, the government's top medical advisor has warned.
In a televised statement, the UK's scientific advisor Sir Patrick Vallance said with "cases doubling roughly every seven days", there could be 50,000 new cases a day by mid-October if the surge continues unabated.
Speaking alongside Chris Whitty, the UK's chief medical officer, Vallance said the "increase in case numbers has translated into a rise in hospitalisations, and deaths are also increasing", warning that what was needed was "speed and action, and enough to bring that rate down".
The warning was delivered without a politician present, with Boris Johnson's government currently deciding how to proceed with the flu season soon to arrive.
There are expectations that more measures could be announced, with Johnson discussing with ministers over the weekend how to slow the spread of a virus which has accounted for at least 41,800 deaths in the country - currently the highest toll in Europe.
The UK government has imposed new restrictions in the northeast in an attempt to halt the spread of COVID-19.
It has also warned those who break self-isolation requirements will face fines of up to £10,000 (€10,909).
Warning that "the seasons are now against us", with flu season on the horizon, Chris Whitty said the country faces a "six-month problem that we have to deal with collectively".
He pointed out the rate of increase was up across the entire country, and anywhere which had seen a falling rate was now seeing a rise.
Whitty also poured cold water on the idea that the virus has mutated into something milder than the one that caused the original lockdown back in March, saying "we see no evidence" for this.
The highest rate of infection is currently amongst young adults, but the is spreading across age groups the advisors said, which will subsequently cause mortality rates to once again increase as the older age groups are infected.
"The mortality rates will be similar to what we saw previously, and these are significantly greater than ordinary seasonal flu," Whitty added.
Stricter measures incoming
People in England will be required by law to self-isolate if they test positive for COVID-19, risking increased fines if they fail to do so, the UK government announced on the weekend.
The fines will start at £1,000 (€1,090) and could increase to up to £10,000 (€10,909).
The higher fines will be for repeat offences and "egregious breaches" such as preventing others from self-isolating, the UK government said in a statement.
It includes business owners who prevent staff from self-isolating by threatening redundancy if they do not come to work.
"People who choose to ignore the rules will face significant fines. We need to do all we can to control the spread of this virus, to prevent the most vulnerable people from becoming infected, and to protect the NHS and save lives," Prime Minister Boris Johnson said in a statement.
People who lose money while self-isolating because they cannot work from home will receive £500 (€545), the government added.
The government requires people who have symptoms of COVID-19 or a positive test to self-isolate for at least ten days along with members of their household.
SAGE, the government's scientific advisory group for emergencies, said in August that just 20% of people in England fully self-isolate.
From Tuesday evening, COVID-19 restrictions, which include no mixing of households indoors, will be extended across the whole of Northern Ireland. 
People breaking self-isolation has been highlighted as an issue in other European countries where coronavirus cases are rising.
In France, government officials reduced the number of required days for self-isolation in part to encourage more people to self-isolate.