India plane crash: 18 dead and 123 injured after incident in Kerala
Comments
By Euronews, AFP, AP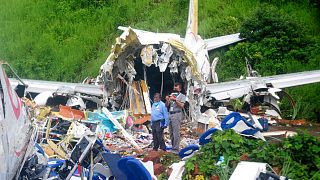 -
More than a dozen people died after a plane carrying up to 200 people skidded off a runway and broke in two pieces after landing at an airport in southern India amid heavy rain, according to authorities.
Police said at least 18 died in the incident on Friday and 123 are injured.
Abdul Karim, a senior Kerala state police officer, said the dead included one of the pilots of the two-year-old Boeing 737-800 flying for Air India Express airline.
He said at least 15 of the injured were in critical condition, and that rescue operations were over.
The NDTV news channel said the plane flew from Dubai to Kozhikode, also called Calicut, in Kerala, India's southernmost state.
It was a repatriation flight carrying Indian citizens back to country, officials said. Regular commercial flights have been paused in India because of the coronavirus outbreak.
Civil Aviation Minister Hardeep S. Puri said in a statement that the flight "overshot the runway in rainy conditions and went down 35 feet (10.6 meters) into a slope before breaking up into two pieces."
Kozhikode's 2,850-meter runway is on a flat hilltop with deep gorges on either side.
Minister Hardeep S. Puri said an inquiry into the accident would be carried out.
Prime Minister Narendra Modi expressed his thoughts "with those who lost their loved ones", adding authorities were at the scene providing assistance to those in need.
According to India's news agency ANI, the flight had six crew members and two pilots on board.
India has witnessed flooding and landslides recently as it goes through the monsoon season.