Protesters in Hong Kong rally against proposed controversial security law
Comments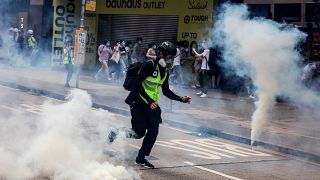 -
Copyright

ISAAC LAWRENCE/AFP or licensors
After months of relative calm enforced by the novel coronavirus pandemic, Hong Kong was once again rocked by violence this weekend with police and protesters clashing over China's proposed new security law.
European powers have so far remained muted in their response.
In a statement released last week, the EU steered clear of outrightly condemning the planned legislation, stressing instead that the bloc "attaches great importance to the preservation of Hong Kong's high degree of autonomy".
Meanwhile, foreign ministers from Britain, Australia, and Canada described themselves as "deeply concerned" with the legislation in a joint statement, also released last week.
"Making such a law on Hong Kong's behalf without the direct participation of its people, legislature or judiciary would clearly undermine the principle of 'One Country, Two Systems', under which Hong Kong is guaranteed a high degree of autonomy," they added.
Euronews has contacted the European External Action Service and Britain's Foreign Office for comment on the latest bout of violence.
Police in the former British colony fired volleys of tear gas at the thousands of people gathered in a popular shopping district on Sunday to protest the law which many fear will spell the end of the city's freedoms.
Beijing's proposed legislation — expected to be passed on May 28 — would ban secessionist activity, as well as foreign interference in the semi-autonomous territory.
It would also allow the Hong Kong government to set up mainland agencies in the city. Some fear this would allow Chinese agents to arrest people for carrying out pro-democracy activities.
It comes after repeated warnings from China that it will no longer tolerate dissent in Hong Kong, which saw months of massive and at times violent anti-government protests last year.
Pro-democracy supporters in Hong Kong have criticised the national security law and say it goes against the "one country, two systems" framework.
Joshua Wong, a prominent figure of the pro-democracy movement in the city warned on Twitter that this weekend's demonstration was "the prelude to a larger scale of protest".
He added that the law "will kill future democratic movements, and murder any slight chance of seeking justice in the city" and that it would leave residents exposed to "wolf warrior diplomacy".
Hong Kong's pro-Beijing leader Carrie Lam defended the proposed law by saying it is necessary to protect national security and punish "violent political elements".
US Secretary of State Mike Pompeo called on Beijing last week to "reconsider its disastrous proposal", warning that "the decision to bypass" Hong Kong's legislative process "would be a death knell for the high degree of autonomy Beijing promised for Hong Kong".